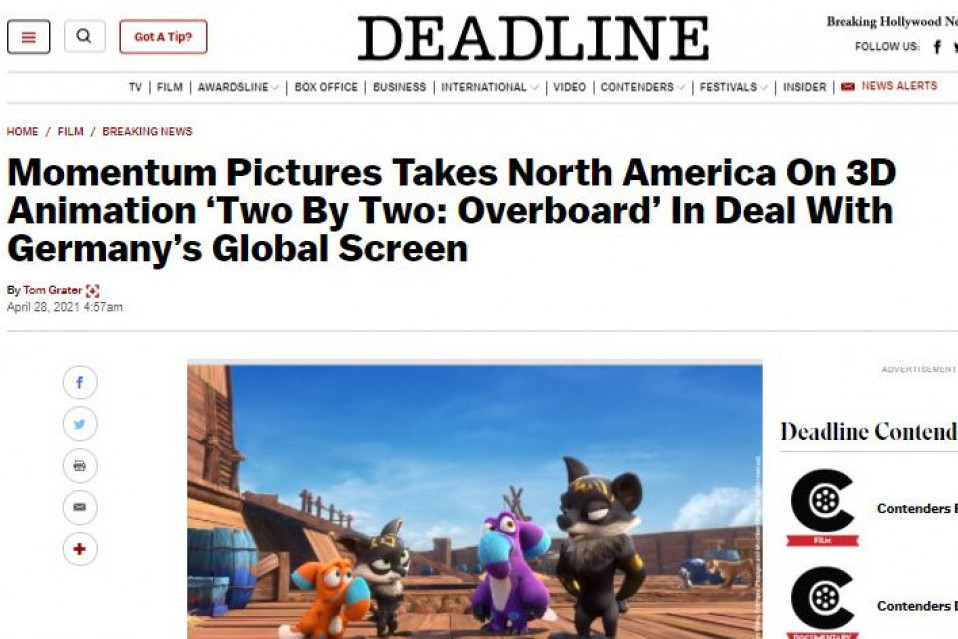 Global Screen closes US & Canada for TWO BY TWO: OVERBOARD! and few remaining territories
Munich-based world sales company Global Screen, a brand of Telepool, has closed one of the last deals for its animated feature film TWO BY TWO: OVERBOARD! (aka OOOPS! THE ADVENTURE CONTINUES...(3D)) with Momentum Pictures for the major territory of the USA and Canada.
The hilariously thrilling 3D-animated movie by director Toby Genkel is the prequel of the international box-office hit "Ooops! Noah Is Gone..." (worldwide $28 million) and currently at the top Number 1 for the last three weeks of the Norwegian charts after having been released in the UK where it opened sensationally straight at No. 1 in the UK box office as well being in the Top 3 in Germany last year.
The familiar little heroes race through a heart-stopping adventure, which is filled with spirited chases and laugh-out-loud slapstick moments, has also been sold to Australia/ New Zealand (Rialto), Middle East (Selim Ramio & Co), Scandinavia (Selmer Media), Belgium/The Netherlands (Just4Kids), and Taiwan (Benchmark).
Previously announced deals included the UK (eOne), France (Paradis/Orange Studios), Spain (Flins y Piniculas), Portugal (Pris), Greece (Rosebud), Israel (Five Stars), Turkey (Filmarti), Russia (Voxell), the Baltic states (Garsu), Ukraine (UFD), Poland (Kino Swiat), ex-Yugoslavia (Blitz), Hungary (Vertigo), Bulgaria (Pro Films), Latin America (Leda Films), Korea (Company L), Vietnam (Lightning McQueen), and Malaysia (Suraya).
TWO BY TWO: OVERBOARD! centres on the young Nestrian Finny and his best mate Leah, a Grymp, who are drifting on a raft after accidentally falling off the ark and being swept out to sea. In a race against time, tide and terrifying tremors, Finny must rescue his friends, reunite with his family and save a whole colony from total destruction.
Director Toby Genkel, producer Emely Christians (Ulysses Filmproduktion) and Global Screen also team up for THE AMAZING MAURICE which is based on Terry Pratchett's bestselling novel. The story of streetwise ginger cat Maurice, who has the perfect money-making scam will come to Sky Cinema in 2022. Emily Clarke and Hugh Laurie are among the actors who have already been lined up as the film's top voice cast. Global Screen is selling THE AMAZING MAURICE world-wide. First scenes will be presented at Cannes' Marché.